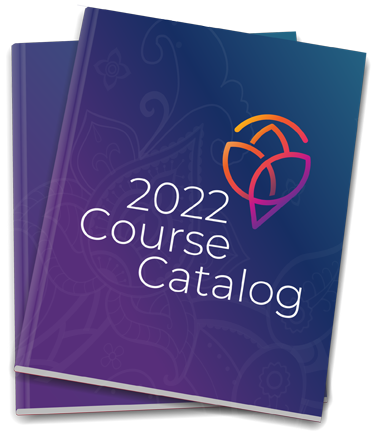 Get detailed information on our ICF Accredited & Board Certified Coach training programs.
Learn more about the International Coach Federation:
Learn More about coaching credentials:
Countless coach training programs exist. That's why it's important to choose the program that aligns with your values and meets or hopefully exceeds industry standards.
Here are the top 3 benefits of choosing an ICF ACTP coach training program.
1. Accredited (ACTP) vs. Approved (ACSTH)
An Accredited Coach Training Program (ACTP) such as our ICF Professional Certified Coach training program is fully vetted by the ICF and is typically all-inclusive.
This means it provides a minimum of 125+ hours of basic to advanced coach-specific training. ACTP programs also include your required ICF mentor coaching hours and your final oral test and evaluations.
Packaging these components together allows you to earn your credential faster and more affordably. For example, the ICF does not require people who attend a full 125+ hour ACTP program to submit for a performance exam. (Currently it takes approximately 16 weeks for the ICF to process these performance exams. Plus you'll pay a higher fee when you apply for your credential because of this extra step.
2. Professional Mentoring
One of the biggest perks of an ACTP program is the mentoring you receive by an ICF professional coach who holds at least a PCC certification.
Offering insight and wisdom that simplify and elevate your credentialing process, many coaching students report that these individuals are frequently the best part of the program. The relationships formed often continue well beyond the training requirements, with the mentor coach acting as a reliable sounding board and ongoing source of guidance.
Once you complete an ACTP program and your ICF requirements, you will possess the training, mentoring and evaluations necessary to apply for the ICF's Professional Certified Coach credential (PCC), as well as the requisite training hours to apply for ICF Global Membership.
3. Faster Track
In addition, those who have completed a full ACTP program may also apply for their ICF Associate Certified Coach credential via the faster track.
In fact many coaches choose to train with a full ACTP program to avoid the 16 week wait for the performance evaluation. They are able to earn their first ICF credential while they complete the requirements for the professional level designation.
Learn About Our ICF Accredited Whole Person Coach Training Program
What should be my first (or next best) step?
Whether you plan to serve your chosen niche as a solopreneur or bolster an organization by supporting managers and work groups, an ICF credential gives you the tools and trustworthiness to achieve the outcomes your future clients expect.
Choosing the best coach training program and ICF credential can be tough, especially where finances and time are concerned. Save yourself from stress and uncertainty by connecting with someone who has walked the path.
We can help identify your best path forward and discuss the specific impact an ICF credential can have on your future.
Contact us today to discuss your goals and particular situation.