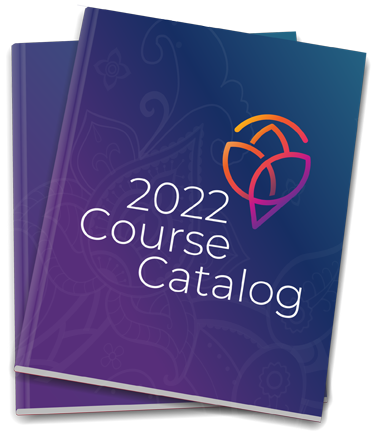 Get detailed information on our ICF Accredited & Board Certified Coach training programs.
Learn more about the International Coach Federation:
Learn More about coaching credentials:
Do you really need to become an ICF credentialed coach to help others?
Yes. Especially if you want the credibility it offers …not to mention everything else.
Before you jump in… I'd love to clarify something that comes up a lot related to the International Coach Federation. Coach Training Schools are either accredited or approved. Coaches earn an ICF credential depending on the level at which they train. This credential tells their future employers and clients what level they've trained at and is an indicator of their level of commitment to the profession.
An ICF coaching credential signifies to prospective clients and employers that you have completed standardized requirements pertaining to the latest techniques, as well as time-tested foundational skills.
This means:
You successfully completed a professional coaching practicum.
You received supervised, professional mentoring by a seasoned coach, developing your skills to an established standard of excellence.
You attended a reputable, vetted coach training school.
Most coach practitioners and managers or leaders who use coaching skills now agree that individuals or organizations that rely on coaching expect coaches to be certified or credentialed. This is according to the 2020 ICF Global Coaching Study. Surveying more than 22,400 coaches throughout the world, the study also discovered:
"Almost three in four coach practitioners (74%) said they currently hold a credential or certification from a professional coaching organization, up from 70% in the 2016 study."
"Forty-five percent of managers/leaders using coaching skills said they hold a certification/credential, including almost one in three (32%) holding an ICF credential."
A credential elevates your expertise and profile from amateur to esteemed professional. It demonstrates your commitment to coaching excellence and aligns you with an organization known for credibility and results the world over.
Like countless other service providers who undergo a credentialing process, you become a legitimate, professionally trained changemaker, immediately recognized and respected by companies and individuals alike.
Yet many prospective coaches still wonder the same thing: why so much emphasis placed on credential? An ICF credential is not a requirement to practice as a coach.
For this very reason, a credential instantly sets you apart. It's the extra step – the gold standard only a professional takes time to complete. No matter which industry you operate in, clients take note.
Benefits of an ICF Credential for Coaches
In today's world of quick, easy solutions, where anyone can launch a website and give themselves any title they dream up, an ICF credential demonstrates your commitment to the profession. This level of dedication does not go unnoticed.
Among the primary benefits of earning an ICF coaching credential are:
Cornerstone of trust and confidence. A credential demonstrates your competence. It is one of the first testaments to your reputation. In addition to the wide range of coaching knowledge and techniques you learn, you also walk away with something essential for success: confidence. You've completed the course work. You've worked side-by-side with a mentor coach, completing your practicum requirements. You know what you're doing. A credential is the fastest way to let others know it too.
FACT: the found that 83% of clients who had previous experience with coaching "stated it was either important or very important that their coach has a certification/credential."
Increased income. There is substantial and increasing value in the fees you can command between credentialing levels (ACC, PCC, and MCC). This is due to an overall increase in ability to assist your clients. Depending on your level of certification and area of focus, coaches have reported anywhere from $125 to $500 an hour for government and private sector contracts.
FACT: the 2020 ICF Global Coaching Study confirms, "the estimated global total revenue from coaching in 2019 was $2.849 billion U.S. dollars, representing a 21% increase over the 2015 estimate."
A credential also…
Reassures clients by establishing your credibility as a professional.
Demonstrates your adherence to established standards and code of ethics.
Testifies to your specific level of skill and personal knowledge.
Confirms your training as part of a vetting or similar background check by prospective employer or client.
Requires ongoing development (for renewal), further broadening your capability, proficiency, and potential results.
Upholds the image of a "professional" coach.
Includes a one-of-a-kind marketing tool: an ICF logo you can use to advertise your specific credential, ACC, PCC, or MCC.
Position yourself within your chosen niche while gaining the most current skills and best practices for personal transformation available. Earn a credential conferred by the world's leading organization of professionally trained coaches: The International Coach Federation (ICF). Then let your experience speak for itself.
One of the biggest and often hidden gift of pursuing an ICF credential is what happens to your capacity to effect change. The extra training, coupled with in-depth, expert mentoring, and the community that forms around you when you pursue your credential, levels up both your skills and confidence. That's a huge benefit to your clients… and you as well!
SOURCE: International Coach Federation. 2017 ICF Global Consumer Awareness Study. Research. Accessed April 4, 2018. https://coachfederation.org/research/consumer-awareness-study.
Learn About Our ICF Accredited Whole Person Coach Training Program
What should be my first (or next best) step?
Whether you plan to serve your chosen niche as a solopreneur or bolster an organization by supporting managers and work groups, an ICF credential gives you the tools and trustworthiness to achieve the outcomes your future clients expect.
Choosing the best coach training program and ICF credential can be tough, especially where finances and time are concerned. Save yourself from stress and uncertainty by connecting with someone who has walked the path.
We can help identify your best path forward and discuss the specific impact an ICF credential can have on your future.
Contact us today to discuss your goals and particular situation.